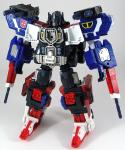 The Fight Mode is one of the two combinations when Optimus Prime combines with Wing Saber.
Fiction
Energon anime
When the Autobots hold a race, Jetfire decided, it would be funny to fire on them with the turrets. When Optimus and Wing Saber came to Jetfire, Prime asked him if he used blanks. When Jetfire told him, that he was using blanks, Optimus decided to "join in", asking Wing Saber to Powerlinx into Fight Mode for the first time. He then flew to the road and encountered Ironhide. After the race, it turned out, it was all a driving lesson for Ironhide. Crash Course
Notes
The Fight Mode is the strongest combination of Optimus Prime and Wing Saber.
Even through it's more powerful, Optimus uses the Flight Mode more often.
In this combination, Wing Saber's legs form Optimus Prime's arms and while his arms form Prime's legs.