This article is about the Decepticon Micromaster. For his Japanese Autobot counterpart, see Fireshot (ROC).
Fireshot is a Decepticon Micromaster in the Generation One continuity family.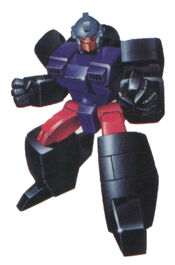 Fireshot is the archetype of paranoia being a self-fulfilling prophecy. He spends all his time gathering intel, to find out who's talking about him behind his back. The result is that his teammates are talking about him behind his back — they're laughing at the notion that he's important enough for anyone to be plotting against him in the first place.[1]
His combiner partner on the Battle Squad is Vanquish.
French name (Canada): Fusillade
Fiction
None known.
Toys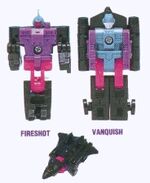 Generation One
Battle Squad (Micromaster Combiner Squad, 1990)
Fireshot transforms into the front half of a SR-71 Blackbird stealth jet, which he forms with his combiner partner Vanquish. He can, of course, be connected to any other Micromaster Combiner, although in his case this does makes no sense, as Vanquish is the only one he forms an actual vehicle with.
Vanquish was only available in a six-pack with his squad mates Vanquish, Direct-Hit, Half-Track, Meltdown and Power Punch.
References
External links
Ad blocker interference detected!
Wikia is a free-to-use site that makes money from advertising. We have a modified experience for viewers using ad blockers

Wikia is not accessible if you've made further modifications. Remove the custom ad blocker rule(s) and the page will load as expected.