This article is about the video-game Mini-Con. For the Movie T.E.C.H. weapon, see Flash Bang.
Flashbang is a Mini-Con from the Armada portion of the Unicron Trilogy continuity family.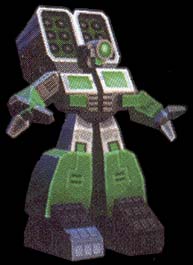 Flashbang is one of many power-enhancing Mini-Cons scattered across Earth. A member of the Green Mini-Con team, when Powerlinxed to a larger Transformer, Flashbang becomes a rocket launcher that fires a pair of direct-fire rockets.
Fiction
Transformers Playstation 2 game
Flashbang's Mini-Con storage panel was found in the Amazon, in a series of ruins on top of a tall hill. Following the defeat of Megatron, he and the other Mini-Cons returned to Cybertron and helped form the Matrix Cannon, Nemesis Shield and Vanguard Booster, giving the Autobots the power needed to destroy Unicron. Transformers (PS2)
Notes
External links