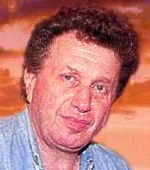 Francis Lax voiced Optimus Prime and Bumblebee in the French-dub version of the G1 Cartoon.
He was also the French voice for Magnum, P.I., Han Solo in the Star Wars trilogy, and that hippie in Scooby-Doo. Bumblebee kinda sounded like him, actually. Weird.
Instead of "Autobots, transform and roll out," he simply said, "Autobot, Transformation." Laaame.
Ad blocker interference detected!
Wikia is a free-to-use site that makes money from advertising. We have a modified experience for viewers using ad blockers

Wikia is not accessible if you've made further modifications. Remove the custom ad blocker rule(s) and the page will load as expected.