The Gardens of Eternal Peace and Harmony Macrobiotic Restaurant is a ... restaurant in the Marvel Comics portion of the Generation One continuity family.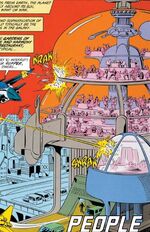 The Gardens of Eternal Peace and Harmony Macrobiotic Restaurant is a restaurant on the planet Nebulos. It has very, very long name that just begs for the place to be raided by Decepticons.
And it was!
Fiction
Marvel Comics continuity
The Gardens of Eternal Peace and Blah Blah Blah was a luxurious, multi-floored structure in an unnamed city, with varied levels for dining under glass domes that allowed spectacular views of the eternal peace and harmony surrounding it.
It was one of the locations attacked by Dreadwind and Darkwing in order to provide food for their ravenous Nebulan Powermaster partners (and hence, fuel for themselves). Conjoined as Dreadwing, the two jets shot up the place, then landed outside. Their two Nebulan partners, Hi-Test and Throttle, found the maitre d' and ordered ten servings each of the restaurant's best entrées, warning that the food better not be overcooked. People Power!
Notes
"RESTAURANT" is written across the entrance. In English. It's exotic!
Ad blocker interference detected!
Wikia is a free-to-use site that makes money from advertising. We have a modified experience for viewers using ad blockers

Wikia is not accessible if you've made further modifications. Remove the custom ad blocker rule(s) and the page will load as expected.