General Ghyrik is a Quintesson from the Marvel Comics UK portion of the Generation One continuity family.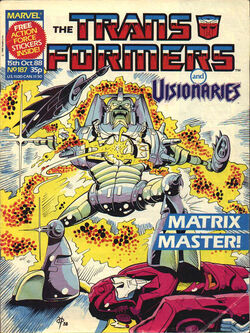 General Ghyrik is a high-ranking Quintesson. Like most of his race, he is haughty, cruel, sneaky, deceptive... and very overconfident.
He ganked the Matrix. But hey, who hasn't?
Fiction
Marvel Comics continuity
Note:
Events from the UK-only comic stories are in italics.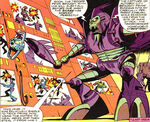 Faced with the death of his world, the planet Quintesson, General Ghyrik was ordered by Lord Kledji to take a team to Earth and destroy Autobot City. Only then could the Quintessons have a chance of taking over the Transformers' homeworld of Cybertron, securing a replacement planet for their race. Space Pirates!

I want to tell you about the Transformers!
---
This character article is a stub and is missing information on their fictional appearances. You can help Teletraan I: The Transformers Wiki by expanding it.
Notes
Ad blocker interference detected!
Wikia is a free-to-use site that makes money from advertising. We have a modified experience for viewers using ad blockers

Wikia is not accessible if you've made further modifications. Remove the custom ad blocker rule(s) and the page will load as expected.