Ad blocker interference detected!
Wikia is a free-to-use site that makes money from advertising. We have a modified experience for viewers using ad blockers

Wikia is not accessible if you've made further modifications. Remove the custom ad blocker rule(s) and the page will load as expected.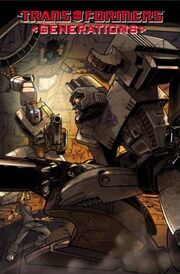 Starting in 2006, IDW Publishing started reprinting old issues of the Marvel's original G1 comic, with a cover price of US$1.99. These reprints featured brand new covers that were either recreations of the original cover or a depiction of some important scene in the issue.
Issue manifest
Cover date: March 22, 2006
Original date: August 1985
Story by: Bob Budiansky
Pencils by: William Johnson
Cover date: April 19, 2006
Original date: February 1986
Story by: Bob Budiansky
Pencils by: Don Perlin
Cover date: May 10, 2006
Original date: March 1986
Story by: Bob Budiansky
Pencils by: Don Perlin
Cover date: June 7, 2006
Original date: May 1986
Story by: Len Kaminski
Pencils by: Graham Nolan
Cover date: July 26, 2006
Original date: June 1986
Story by: Bob Budiansky
Pencils by: Don Perlin
Cover date: August 23, 2006
Original date: July 1986
Story by: Bob Budiansky
Pencils by: Don Perlin
Cover date: September 6, 2006
Original date: January 1987
Story by: Bob Budiansky
Pencils by: Don Perlin
Cover date: October 4, 2006
Original date: February 1987
Story by: Bob Budiansky
Pencils by: Don Perlin
Cover date: November 8, 2006
Original date: April, 1987
Story by: Bob Budiansky
Pencils by: Don Perlin
Cover date: December 6, 2006
Original date: June, 1987
Story by: Bob Budiansky
Pencils by: Don Perlin
Cover date: February 14, 2007
Original date: July, 1987
Story by: Bob Budiansky
Pencils by: Don Perlin
Cover date: March 7, 2007
Original date: August, 1987
Story by: Bob Budiansky
Pencils by: Don Perlin
Collections