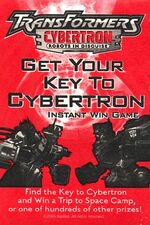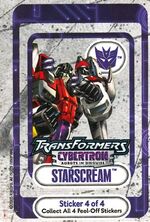 As part of the marketing for the Cybertron franchise, Hasbro ran an instant win game titled Get Your Key To Cybertron.
Game pieces were included with toys from the Cybertron toyline. The front side of the game piece was one of four stickers, featuring Optimus Prime, Megatron, Hot Shot, or Starscream. Non-winning pieces told the contestant that their prize had been stolen by Starscream. What a jerk, that Starscream!
The grand prize was a trip to space camp. Other prizes included telescopes and key chains. The contest ended at the end of 2006.
Ad blocker interference detected!
Wikia is a free-to-use site that makes money from advertising. We have a modified experience for viewers using ad blockers

Wikia is not accessible if you've made further modifications. Remove the custom ad blocker rule(s) and the page will load as expected.