Gimlet is a Maximal and Predacon Jointron from the Beast Wars II portion of the Generation One continuity family.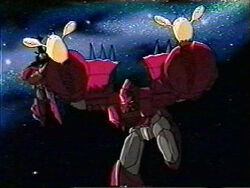 Gimlet is the youngest of the Jointron brothers and the dancing fool of the group. He loves to jump and party-about to the music of his older brother, DJ. Gimlet is a Maximal who never gets down even in the worst situation. Instead he just likes to party and have a good time and see what happens next. During peacetime he dedicates himself to competitive sports, and during wartime treats that like a sport and keeps score of the Preds he's downed. Just like his other brothers, he mixes bad Spanish in with his sentences, often-times making it hard to tell what he's getting at. Instead, he lets his rhythm speak for him.
Gimlet can join with his fellow Jointrons to form Tripledacus.
A falling-out led Gimlet to join the Predacons. Sucks to be the other Jointrons.
(Note: The IDW profiles for the Jointron brothers dropped the potentially offensive Mexican stereotype aspect of their personalities.)
Fiction
Beast Wars II and Neo animation
Voice actor: Takeshi Maeda (Japanese)
Beast Wars II comic
IDW Beast Wars comic
Gimlet fought with Sharp Edge over an Angolmois capsule. The Ascending #4
Toys
Beast Wars II
Gimlet

Japanese ID number: C-25
Accessories: Launcher
Beast Wars Telemocha Series
Gimlet

Japanese ID number: TM-12
Accessories: Launcher
External links
Ad blocker interference detected!
Wikia is a free-to-use site that makes money from advertising. We have a modified experience for viewers using ad blockers

Wikia is not accessible if you've made further modifications. Remove the custom ad blocker rule(s) and the page will load as expected.