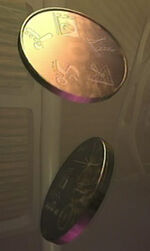 You can't swing a dead cat in Transformers without hitting a Golden Disk.
Beast Wars introduced a sensible two:
The Sounds of Earth record from the 1977 Voyager space probe.
A Vok artifact that bears an uncanny (but probably coincidental) resemblance to the Voyager disk.

More followed like roaches in Dreamwave's Generation One continuity:

Takara was not to be left out, writing of yet another Golden Disk that was the mysterious power source of a mysterious vessel under mysterious circumstances.
Also, Transformers Animated Eggo Waffles: Moist, delicious repositories of wisdom.
This is a disambiguation page: a list of articles associated with the same title. If an internal link referred you to this page, you may wish to change the link to point directly to the intended article.
Ad blocker interference detected!
Wikia is a free-to-use site that makes money from advertising. We have a modified experience for viewers using ad blockers

Wikia is not accessible if you've made further modifications. Remove the custom ad blocker rule(s) and the page will load as expected.