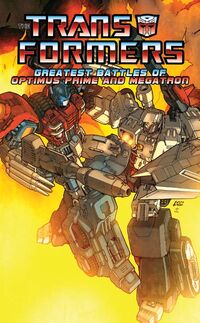 Greatest Battles of Optimus Prime and Megatron is a trade paperback published by IDW Publishing. The TPB consists of reprinted stories featuring fights between arch rivals Optimus Prime and Megatron (as one can guess from the title).
Overview
Greatest Battles pulls stories ranging from the earliest US Marvel Comics issues, Marvel UK, Dreamwave Productions and the more current IDW continuity. The collection features new cover art by Don Figueroa depicting a scene from Dreamwave's The War Within; interestingly, Don drew Megatron to more closely resemble the appearance of his Titanium Series toy, which he also helped design. There are also a few interior illustrations by Nick Roche.
Contents
Items of note
This collection actually spans 5 different continuities: only the Marvel issues are within a single continuity.
All issues except 1 represent Generation One continuities. First Contact is from Armada.
Publishing information
Paperback: 152 pages
Release date: June 6, 2007
ISBN: 978-1600100703
Ad blocker interference detected!
Wikia is a free-to-use site that makes money from advertising. We have a modified experience for viewers using ad blockers

Wikia is not accessible if you've made further modifications. Remove the custom ad blocker rule(s) and the page will load as expected.