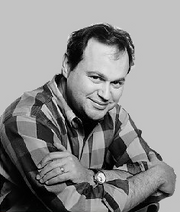 Gregg Berger (sometimes credited as Greg Berger, born December 10th, 1950) is a prolific American voice actor. Outside of cartoons, he is known among video game enthusiasts for his work on high-profile video games such as Final Fantasy X and Metal Gear Solid 3.
Berger also wrote the introduction for the Titan Books trade paperback, Treason.
Generation One
Trivia

Gregg Berger is known for participating in fan events, such as a fan script reading at TFCon 2008 in Toronto, where he reprised his roles of Skyfire, Grimlock and Outback.
External links
Ad blocker interference detected!
Wikia is a free-to-use site that makes money from advertising. We have a modified experience for viewers using ad blockers

Wikia is not accessible if you've made further modifications. Remove the custom ad blocker rule(s) and the page will load as expected.