Gusher is an Autobot Micromaster in the Generation One continuity family.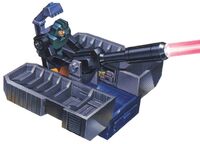 Gusher is offensive, both in his battle strategies and in his conversational gambits. Any slight is likely to trigger a volley of counter-arguments and insults. His combiner partner, Pipeline, finds himself forced to retaliate in kind.[1]
Fiction
None known.
Toys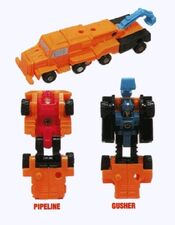 Generation One
Tanker Transport (Micromaster Combiner Transport, 1990)

Accessories: 2-part trailer, 2 cannons, 2 ramps
A redeco of Knockout, Gusher transforms into a backhoe trailer that is intended to be combined with his partner Pipeline to form an orange backhoe truck. As a Micromaster Combiner, he can of course connect with any other Micromaster Combiner or Combiner Transport to make a new vehicle.
He was only available in a set with Pipeline and the Tanker Truck.
Footnotes
External links
Ad blocker interference detected!
Wikia is a free-to-use site that makes money from advertising. We have a modified experience for viewers using ad blockers

Wikia is not accessible if you've made further modifications. Remove the custom ad blocker rule(s) and the page will load as expected.