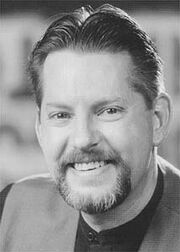 Hal Rayle is an American voice actor. His roles include Raphael in the European Vacation episodes of Teenage Mutant Ninja Turtles, Lieutenant Commander Steele in SWAT Kats: The Radical Squadron, Hammerhead Hannigan in Darkwing Duck and Deep Six in the Sunbow G.I. Joe series. He and his wife Maggie Roswell run a voiceover studio near their home in Denver.
Generation One
External Links
Ad blocker interference detected!
Wikia is a free-to-use site that makes money from advertising. We have a modified experience for viewers using ad blockers

Wikia is not accessible if you've made further modifications. Remove the custom ad blocker rule(s) and the page will load as expected.