This article is about the Decepticon Micromaster. For the Autobot Micromaster from Battlestars, see Half-Track (ROC).
Meltdown is a Decepticon Micromaster from the Generation One continuity family.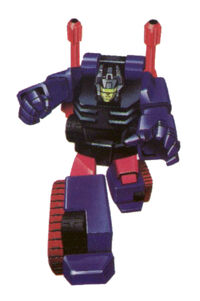 Half-Track loves his job of shooting down Autobot aircraft. He's so enthusiastic, his words comeouttoofastandhisteammatescnbrlyundrstndhm.[1]
His combiner partner on the Battle Squad is Meltdown.
French name (Canada): Demi-Roue
Fiction
None known.
Toys
Generation One
Battle Squad (Micromaster Combiner Squad, 1990)
Half-Track transforms into a tracked anti-aircraft tank which is intended to be the rear half of a blue anti-aircraft half-track which he forms with his combiner partner Meltdown. He can, of course, be connected by any other Micromaster Combiner.
Half-Track was only available in a six-pack with his squad mates Meltdown, Direct-Hit, Fireshot, Power Punch and Vanquish.
Footnotes
External links
Ad blocker interference detected!
Wikia is a free-to-use site that makes money from advertising. We have a modified experience for viewers using ad blockers

Wikia is not accessible if you've made further modifications. Remove the custom ad blocker rule(s) and the page will load as expected.