Half-Track is an Autobot from the Dark of the Moon portion of the live-action film series continuity family.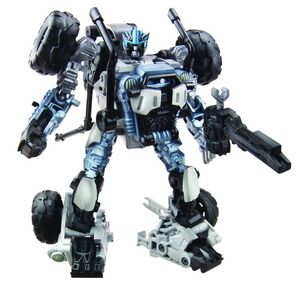 Autobot space scientist Half-Track is more than happy to have a human, Major Altitude, along during his lunar expeditions. His research requires more than a single pair of hands, and it's nice to have a partner who shares his excitement at making new discoveries in deep space.
Toys
Major Altitude / Half-Track (Human Alliance Basic, 2011)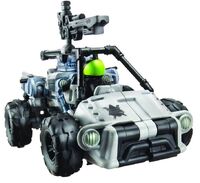 Half-Track is a white and blue repaint of Sandstorm. Major Altitude is a new figure, he is an Astronaut with a black suit and a neon green visor.
Thanks to this mould's roll bars, a large amount of clip system weapons can be attached to the figures.
Ad blocker interference detected!
Wikia is a free-to-use site that makes money from advertising. We have a modified experience for viewers using ad blockers

Wikia is not accessible if you've made further modifications. Remove the custom ad blocker rule(s) and the page will load as expected.