Harold Edsel is a human movie star in the Generation One continuity family.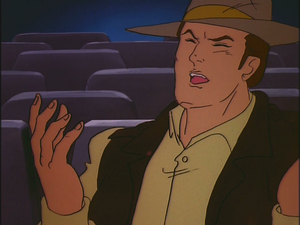 Harold Edsel had the bad luck of "starring" in a science fiction film along with Karen Fishook whose director became obsessed with using Hoist and several of the Autobots as his main characters (likely saving loads on his FX budget).
For reasons that are unclear he bears some resemblance to the Star Warrior Han Solo.
Fiction
The Transformers cartoon
Voice actor: Corey Burton (US), Keiichi Nanba (Japan)
The combination of bad Autobot acting and Decepticon attention apparently spelled doom for Harold's film and peace of mind. Hoist Goes Hollywood
Notes