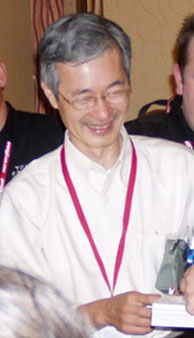 Hideaki Yoke (餘家英昭) is Takara's lead designer on Transformers. He was one of the designers on Diaclone and Microman, and acted as Takara's liaison to Hasbro in the early years of Transformers' development. He has been working on Transformers ever since.
Because of that devotion, in 2010, along with Kohjin Ohno, Bob Budiasky and Peter Cullen, he was an inductie of the Transformers Hall of Fame announced during BotCon 2010.
External links
Ad blocker interference detected!
Wikia is a free-to-use site that makes money from advertising. We have a modified experience for viewers using ad blockers

Wikia is not accessible if you've made further modifications. Remove the custom ad blocker rule(s) and the page will load as expected.