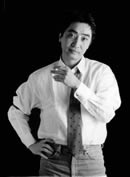 Hirotaka Suzuoki (鈴置 洋孝) was a veteran Japanese voice actor who was born on March 6, 1950 in Nagoya, Aichi, Japan.
He was a popular actor that appeared in many 1980s robot anime, including Gundam, Macross, and Dorvack. He also provided the voice of Tien from Dragon Ball Z.
He was the guest of honor at Botcon Japan 1998.[1]
On August 6 2006, at the age of 56, Hirotaka Suzuoki died from lung cancer.
"
A Japanese fan on the fundamental difference between Suzuoki and Latta [2]
"

—In the Japanese edition, his voice is not squeaky but very cool!
Transformers
External Links
Ad blocker interference detected!
Wikia is a free-to-use site that makes money from advertising. We have a modified experience for viewers using ad blockers

Wikia is not accessible if you've made further modifications. Remove the custom ad blocker rule(s) and the page will load as expected.