The name or term Hoist refers to more than one character or idea. For a list of other meanings, see Hoist (disambiguation).
Hoist is an Autobot from the live-action movie continuity family.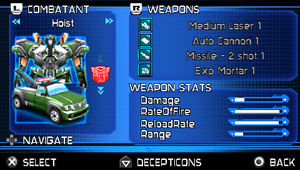 Hoist will fix you up, for sure!
Fiction
Transformers: The Game (PSP)
Voice actor: Mark Ryan

I want to tell you about the Transformers!
---
This character article is a stub and is missing information on their fictional appearances. You can help Teletraan I: The Transformers Wiki by expanding it.
Toys
Revenge of the Fallen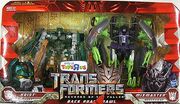 Back Road Brawl (Toys R Us Exclusive Multi-Pack, 2009)
Hoist is a redeco of Longarm, surprised? He comes with a G1-decoed Mixmaster.
Notes
While Hoist himself does not appear in either version of the Nintendo DS game, a obvious nod to him is one of the many unlockable vehicle forms for Create-A-Bot in the Transformers: Autobots version. While the form (called "Maintenance") is not entirely like his vehicle mode, being a pallete-swapped version of Longarm, it has a very similar paint job and the robot mode is almost dead on.
External Links
Ad blocker interference detected!
Wikia is a free-to-use site that makes money from advertising. We have a modified experience for viewers using ad blockers

Wikia is not accessible if you've made further modifications. Remove the custom ad blocker rule(s) and the page will load as expected.