This article is about the swingin', rockin', rollin' Micromasters. For turbo-revvin' young punk, see Hot Rod.
The Hot Rod Patrol is a team of Autobot Micromasters from the Generation One continuity family.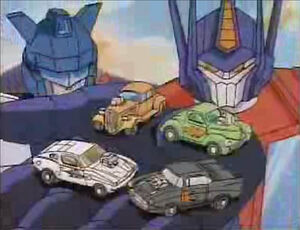 Sin Street, Little Iacon. Trouble hits hot and heavy when the Hot Rod Patrol roll into town. These are the children of violence, who live today as if there's no tomorrow. Hep cats, who learn the naked facts of life too soon. Witness if you dare, the ravaged lives in the adolescent jungles of Cybertron today. They are in your city, your town, your neighborhood. These... are the delinquents.
These are the hottest of hot rodders, the cool and the crazy -- guys who've got what it takes. They're jazzed up and power mad! Starring:
Japanese name: Hot Rod Team
Fiction
Dreamwave comics continuity
They rebelled, came back, then rebelled again. There was much vacillation, angst, and shooting.
Toys
Generation One
Hot Rod Patrol (Micromaster Patrol, 1990)
Return of Convoy
Japanese ID number: C-362
This set came with Micro Trailer # 2.

You left a piece out!
---
This article is a stub and is missing information. You can help Teletraan I: The Transformers Wiki by expanding it.
Ad blocker interference detected!
Wikia is a free-to-use site that makes money from advertising. We have a modified experience for viewers using ad blockers

Wikia is not accessible if you've made further modifications. Remove the custom ad blocker rule(s) and the page will load as expected.