Howlback is a Decepticon Mini-Cassette from the Generation One continuity family.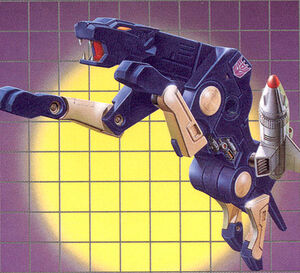 Howlback (ハウルバック) is a member of the elite Cobalt Sentries, the "public safety unit" of the Decepticon Secret Police. Howlback takes her job and position as an enforcer very seriously, and will brook no dissent from anyone, even a fellow Decepticon. She carries herself with an elegant air, which masks the ice-cold killer at the core of her spark.
As part of her job of quelling insurgencies and arresting (or assassinating) suspected rebels, she carries a set of "Multi-Track Missiles", but her real strength is in her "Feedbacker Shield", an energy barrier which absorbs energy attacks, allowing her to fire it back at the target of her choosing.
Toys
Generation One
Cobalt Sentries (Decepticons, 2005)

Japanese ID number: 69, 71 (Cobalt Sentries set)
Accessories: Left & right "Multi-Track Missiles"
A redeco of the original Ravage mold, Howlback transforms from a mechanical jaguar into a microcassette tape that can fit in the chest compartment of the Soundwave or Blaster molds. Her "tape window" shows a readout of the Autobot Fortress Maximus that shows his "weak point" when she is placed behind a clear-red piece of transparent plastic, like the Tech Spec decoders and the chestplates behind the Soundblaster and Twincast molds. She also came with a clear-plastic cassette case, like early Takara releases of the cassette Transformers.
Notes
"Howlback" is actually an audio term, essentially a synonym for "feedback".
Howlback's coloration is based on the individually-boxed pre-Transformers Microchange version of the MC-02 "Microcassette Robo Jaguar" mold.
The Cobalt Sentries set had notoriously bad quality control in regards to Howlback's add-on weapons. There were numerous complaints of sets with two of the same-side weapon, leading to a lot of trading between fans and mailed-off replacement parts from Takara.
External links
Ad blocker interference detected!
Wikia is a free-to-use site that makes money from advertising. We have a modified experience for viewers using ad blockers

Wikia is not accessible if you've made further modifications. Remove the custom ad blocker rule(s) and the page will load as expected.