Hubs is an Autobot Micromaster in the Generation One continuity family.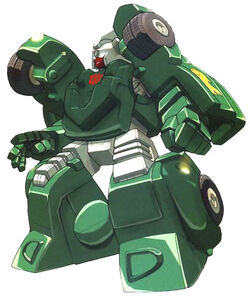 Hubs is the youngest member of the Hot Rod Patrol, and therefore is yet another young punk who doesn't play by the rules. Except, this kid is also not half as good as he thinks he is, and gets the team into trouble when he overestimates his abilities. But, he'll learn. He'll learn.[1]
Japanese name: Lucas
Fiction
Dreamwave comics continuity
Micromasters
Forthcoming.
Toys
Generation One
Hot Rod Patrol (Micromaster Patrol, 1990)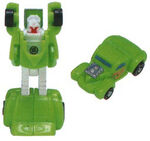 Hubs transforms into a pale green Willys Coupe hot rod. Like Big Daddy, due to his large wheels, he slopes forward slightly, though not to the extent of his teammate's vehicle mode. Thanks to his bright color scheme coupled with a sparse paint deco, he has one of the more monochromatic vehicle modes in the team. In robot mode, Hubs has a bit more color, with some white and red helping to subdue the rather bright green, but is otherwise unremarkable.
Return of Convoy
Hot Rod Team (Micro Trailer Team, 1991)
Japanese ID number: C-362
The Hot Rod Patrol was released in the Return of Convoy series with no notable changes to the individuals. However, they did come with Micro Trailer #2.
Notes
Hubs' Japanese name "Lucas" is probably a reference to George Lucas, who wrote and directed the hot rod-laden movie American Graffiti before he brought us Star Wars.
Footnotes
External links
Ad blocker interference detected!
Wikia is a free-to-use site that makes money from advertising. We have a modified experience for viewers using ad blockers

Wikia is not accessible if you've made further modifications. Remove the custom ad blocker rule(s) and the page will load as expected.