Hyakurai is an Autobot-allied Mini-Con from the Cybertron portion of the Unicron Trilogy.
Hyakurai (ヒャクライ)is a member of the Caliber Mini-Cons, a special strike force under the command of Wing Saber.
Toys
Cybertron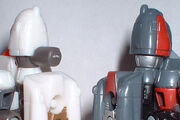 Hyakurai (Mini-Con, 2005)
Hyakurai is a redeco of the Armada Air Military Team Mini-Con Gunbarrel, transforming into a bomber plane, with a third six-barreled cannon mode. A 5mm peg was added to the underside of the mold's plane cockpit, allowing him to be used as a hand-held weapon as well as one mounted on a Powerlinx plug. (Ironically, the Cybertron version of Wing Saber does not have standard 5mm-hole hands.)
He and the other Caliber Mini-Cons were only available in July of 2005 from select stores in Japan as special promotional giveaways. Hyakurai could be obtained with the purchase of any Transformers item from either "Ito Yokaido" or any store that had purchased a "TF Station" affiliation.
Notes
Hirofumi Ichikawa explains that Hyakurai "comes from 'Hyakurai-jutsu' (Gun of 100 Thunders), a ninja trick employing gunpowder."