The Ilxians are an alien race from the Generation One continuity family.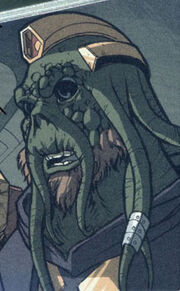 The Ilxians are a race of spacefaring aliens with deep, dark eyes and tentacly heads. They are about the same size as the average Cybertronian. They are apparently friendly to (or at least non-hostile towards) the Autobots.
Fiction
IDW Generation One comics
The Ilxian star trawler Yar picked up a near-death Blaster, who had been left floating in space. Captain Ku'arn then got in contact with the Autobot Orbital Command Hub and returned the missing communicator. Spotlight: Blaster
Ad blocker interference detected!
Wikia is a free-to-use site that makes money from advertising. We have a modified experience for viewers using ad blockers

Wikia is not accessible if you've made further modifications. Remove the custom ad blocker rule(s) and the page will load as expected.