Ad blocker interference detected!
Wikia is a free-to-use site that makes money from advertising. We have a modified experience for viewers using ad blockers

Wikia is not accessible if you've made further modifications. Remove the custom ad blocker rule(s) and the page will load as expected.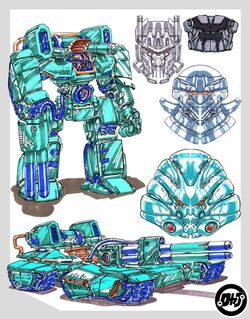 Immorticon is a Transcendent Technomorph from the TransTech continuity.
Immorticon is not lightly named. An absolute powerhouse fighting in service of Alpha Trion's cause, he's come under heavy weapons fire and lived to tell the tale.
Fiction
TransTech comic
Immorticon was part of Alpha Trion's insurrectionist organization, and joined in the raid on Shockwave's laboratory in the hopes of rescuing Breakaway. Though he was hit dead-center by an energy blast from one of the facility's guards, Immorticon survived this without obvious injury. Immorticon and his comrades successfully stormed into Shockwave's inner sanctum, where they came face-to-face with the formidable Megatron. Transcendent: Part 5
Notes