Ironworks is an Autobot Micromaster in the Generation One continuity family.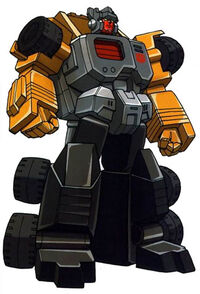 Ironworks is an eccentric hermit, guarding and maintaining his communications station, far from the front lines. He indulges his artistic side by building bizarre devices on the land around his station.[1]
French name (Canada): Cuirassé
Italian name: Radar
Fiction
Dreamwave comics continuity
Ironworks was seen at the Micros-only bar in Little Iacon. He tried to warn Trip-Up that the chair he was going for belonged to Roller Force. Trip-Up responded by taking the chair anyway, and pushing Ironworks out of his own chair for good measure. The Gray Race He was later seen trying to fight off a group of Decepticons who invaded the Micros' territory. Recipe for Hate
Toys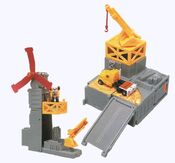 Generation One
Ironworks (Micromaster Station, 1989)
A redeco of the Off Road Patrol member Powertrain, Ironworks transforms into a longnosed semi truck cab of undetermined model. He came with a "communications bay", a construction base that unfolds into a communications tower with a (non-firing) missile launcher.
Zone
Build Base (Micro Transformer Station, 1990)
Notes
Footnotes
External links
Ad blocker interference detected!
Wikia is a free-to-use site that makes money from advertising. We have a modified experience for viewers using ad blockers

Wikia is not accessible if you've made further modifications. Remove the custom ad blocker rule(s) and the page will load as expected.