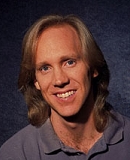 Jeffrey Glen Bennett (born October 6, 1962) is an American voice actor. One of the more popular voice actors out there, Jeff Bennett has been a consistent performer on various productions since the early 1990s. Some of his most notable roles include Kyle Katarn from the Star Wars: Dark Forces games from LucasArts, Owen, the Magus and Brooklyn on Disney's Gargoyles, Cowlorado Kid from Wild West C.O.W.-Boys of Moo Mesa, the title character from Johnny Bravo, Blitz from Road Rovers, Dexter's Dad from Dexter's Laboratory, and the Huntsman, Lord Bravery and Candlejack from Freakazoid! among other roles.
Transformers Animated
Notes
Jeff Bennett played a role as Eddie in Friday the 13th Part VII: The New Blood along with Susan Blu.
External Links
Ad blocker interference detected!
Wikia is a free-to-use site that makes money from advertising. We have a modified experience for viewers using ad blockers

Wikia is not accessible if you've made further modifications. Remove the custom ad blocker rule(s) and the page will load as expected.