Ad blocker interference detected!
Wikia is a free-to-use site that makes money from advertising. We have a modified experience for viewers using ad blockers

Wikia is not accessible if you've made further modifications. Remove the custom ad blocker rule(s) and the page will load as expected.
Jetblade is a Decepticon from the live-action film series continuity family.
Jetblade has been hiding out for years among human fighter planes, it was only recently he hooked up with Terradrive, and the two became instant friends, vowing to remain hidden until the time was right. Even so, the temptation to catch the slow moving Tomahawk out in the open was too much for the two dangerous Decepticons.
Toys
Transformers (2010)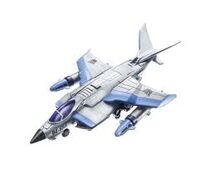 Jetblade (Deluxe Class, 2010)

Accessories: 2 missiles, 2 missile launchers
Jetblade is a redeco of Revenge of the Fallen Dirge. Jetstorm transforms into a fighter jet resembling Harrier with two missile launchers with pre-loaded missiles