Ad blocker interference detected!
Wikia is a free-to-use site that makes money from advertising. We have a modified experience for viewers using ad blockers

Wikia is not accessible if you've made further modifications. Remove the custom ad blocker rule(s) and the page will load as expected.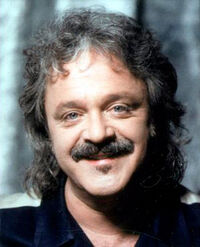 Jim Cummings is an American voice actor. One of the most popular and seasoned voice actors in the country, Jim Cummings might be best recognized for roles such as Leatherhead on Teenage Mutant Ninja Turtles, Taz from Taz-Mania, Monterey Jack and Fat Cat on Chip n' Dale Rescue Rangers, Darkwing Duck and Negaduck from Darkwing Duck, Pete from Goof Troop, Cat from Catdog and everyone's favorite, Winnie the Pooh. and tigger too
Generation One
Notes
Cummings actually replaced Peter Cullen as the voice of Monterey Jack on Chip n' Dale Rescue Ranger,and acted alongside Corey Burton for the rest of the series' run. Cullen and Cummings currently collaborate on Winnie the Pooh.
External links