John Stephenson (August 9, 1923- ) is an American voice actor. He has been working in the animation business (particularly Hanna Barbara) since the early 1950s, with some of his most recognizable characters being Mr. Slate from The Flintstones, Doggie Daddy from Augie Doggy, Captain Murphy from Sealab 2020, General Flagg from G.I. Joe, Professor X from Pryde of the X-Men.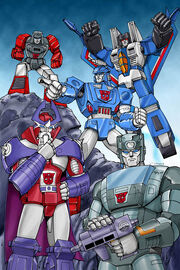 Generation One
Convention appearances
John Stephenson was a guest at BotCon 2001.
External links
Ad blocker interference detected!
Wikia is a free-to-use site that makes money from advertising. We have a modified experience for viewers using ad blockers

Wikia is not accessible if you've made further modifications. Remove the custom ad blocker rule(s) and the page will load as expected.