June Darby is a human from Prime continuity family.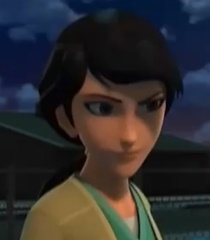 Voice Actor: Markie Post (US)
June Darby is like any mother: She worries, cares, is protective, and loves her son dearly. She is also strict, as she made it a rule for Jack to wear a helmet every time he rode his motorcycle, and when he kept staying out late and lying enough to drive her to ground him unaware the reasons behind his behavior was because he couldn't tell her then about the Autobots.
When she becomes aware of the Autobots' existence, she becomes increasingly protective enough to test even Arcee's patience but they soon make amends. As a nurse, she has a certain relationship and respect for Ratchet, and seems to have a bit of a thing for Optimus.
Skills
June works as a nurse and is capable of providing medical care and basic first-aid aside for more serious injuries or illnesses.
Notes
Miko refers to June as "helicopter mom" due to her overprotective tendencies.
June and Arcee had a small rivalry with each other due to their shared desire to protect and spend time with Jack. However, after Arcee displayed that she was reluctant to knowingly endanger Jack, they resolved their differences.
Ad blocker interference detected!
Wikia is a free-to-use site that makes money from advertising. We have a modified experience for viewers using ad blockers

Wikia is not accessible if you've made further modifications. Remove the custom ad blocker rule(s) and the page will load as expected.