Karen Fishook is a human movie star in the Generation One continuity family.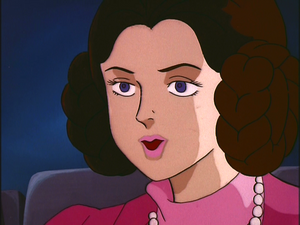 Karen Fishook, along with co-star Harold Edsel, is the lead in the science fiction movie Attack of the Alien Robots that also "stars" the Autobot Hoist amongst other Autobots. (Interestingly, one could make a connection with this character to a certain real world actress who was famous for portraying a character on whom Arcee would be based...) Hoist Goes Hollywood
Notes
Ad blocker interference detected!
Wikia is a free-to-use site that makes money from advertising. We have a modified experience for viewers using ad blockers

Wikia is not accessible if you've made further modifications. Remove the custom ad blocker rule(s) and the page will load as expected.