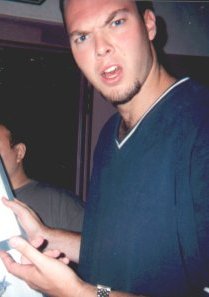 Karl Hartman may be the tallest being involved in Transformers who isn't fictional.
Karl and his brother Jon wrote numerous Transformers pieces for publications like Lee's Guide throughout the 90s. They started BotCon back in 1994, so you're welcome. They also used to have possibly the largest and most diverse collection of loose and packaged Transformers products in the US, but at BotCon 2006 sold off vast swaths of it to pay for things like homes and marriages and whatnot. You know. Stupid grown-up stuff.
Karl is currently a member of Fun Publications' Official Transformers Collectors' Club "advisory board".

You left a piece out!
---
This article is a stub and is missing information. You can help Teletraan I: The Transformers Wiki by expanding it.
Ad blocker interference detected!
Wikia is a free-to-use site that makes money from advertising. We have a modified experience for viewers using ad blockers

Wikia is not accessible if you've made further modifications. Remove the custom ad blocker rule(s) and the page will load as expected.