The name or term Kickback refers to more than one character or idea. For a list of other meanings, see Kickback (disambiguation).
A member of the Destruction Team, Kickback combines with his teammates to form the powerful Bruticus Maximus. Had he not been overly close to his exploding team leader, we might know more about his flipper-footed majesty.
Japanese name: Brawl
Fiction
Energon cartoon

I want to tell you about the Transformers!
---
This character article is a stub and is missing information on their fictional appearances. You can help Teletraan I: The Transformers Wiki by expanding it.
Toys
Energon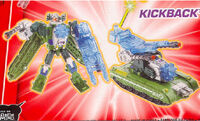 Japanese ID number: SD-21
US Team member number: D4
Kickback shares a mold with his teammate Blight, transforming into an anti-aircraft tank similar to a Gepard. He has a clear-blue energon chip that can attach to most Energon-series toy molds. He can also form the arm or leg to any combination of Energon combiner team super robot, though his "standard" position is as the left leg of Bruticus Maximus.
Bruticus (Multi-pack, 2004)
Japanese ID number: SD-21
In Japan, Kickback (aka "Brawl") was only available as part of a complete set of all five Destruction Team members, never as an individual. There are several small deco differences between the Hasbro and Takara releases: the Takara version uses a darker clear-blue, plus has the number "16" tampographed on his tank-mode side instead of the Hasbro version's "B/12".
External links
Ad blocker interference detected!
Wikia is a free-to-use site that makes money from advertising. We have a modified experience for viewers using ad blockers

Wikia is not accessible if you've made further modifications. Remove the custom ad blocker rule(s) and the page will load as expected.