Ad blocker interference detected!
Wikia is a free-to-use site that makes money from advertising. We have a modified experience for viewers using ad blockers

Wikia is not accessible if you've made further modifications. Remove the custom ad blocker rule(s) and the page will load as expected.
Kinetic Solutions Incorporated
, commonly abbreviated as
KSI
, is one of the antagonist factions of the
Transformers: Age of Extinction
movie. It was started by
Joshua Joyce
, and is cooperating with
Cemetery Wind
and also the bounty hunter Lockdown. The company's main goal is to build man-made prototype Transformers to "make the world a better place". As Joshua explains in the film, these prototypes can be used for the Military, Cleaning, exploration, and literally every other possible task.
History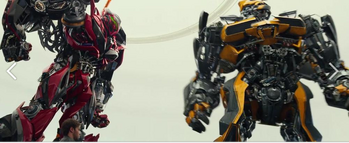 Cade breaks into KSI headquarters to find out why dead Transformers were being transferred to KSI. He disguises himself as a KSI scientist, and has Bumblebee scan a fake scientist key in order to get in. He then learns that KSI is using the metals that Transformers are made of(Transformium) in order to build there improved prototype Transformers. He walks into a melting room, where he see's KSI scientists melting Ratchet's head for Transformium. However, Cade's phony KSI key alarmed the system, indicating that there was two of the same key signed into the building. Cade attempt's to escape, but is later caught by KSI guards. He is brought to the top floor to speak to Harold Attinger. This alerts the Autobots that Cade is captured, so they all break into the building, while Bumblebee and Drift save Cade.
Optimus
,
Crosshairs
, and
Hound
went to the main room, where they started destroying KSI's technology. This angers Joshua, who yells at them for destroying his hard work. Joshua explains that they don't "need' the Transformers any more, because they can make their own. This causes the Autobots to stop the assault, while they leave KSI headquarters.
Notes
KSI is cooperated with Cemetery Wind
KSI is also cooperated with Lockdown
Related Links