Legout is an Autobot Mini-Cassette combiner in the Headmasters portion of the Generation One continuity family.

Legout is the combination of Dial and Saur, and contains a supercomputer that records information for the Autobots. Unlike his older brother, Decibel, Legout is carefree and easily enthused. His shoulder-mounted Wave Blasters can overload Decepticon audio receptors and deafen them, which makes them not so enthused.
Toy
The Headmasters
Dial and Zaur (Mini-Cassettes)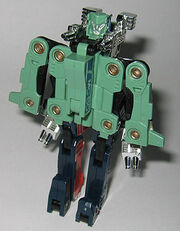 Legout is the combination of the Dial and Saur toys, both sold separately. Unlike his dinosaur-based components, Legout is humanoid.
External Links
Ad blocker interference detected!
Wikia is a free-to-use site that makes money from advertising. We have a modified experience for viewers using ad blockers

Wikia is not accessible if you've made further modifications. Remove the custom ad blocker rule(s) and the page will load as expected.