Ad blocker interference detected!
Wikia is a free-to-use site that makes money from advertising. We have a modified experience for viewers using ad blockers

Wikia is not accessible if you've made further modifications. Remove the custom ad blocker rule(s) and the page will load as expected.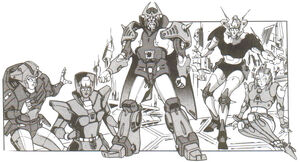 Following is a thorough list of female Transformers characters. Many of these characters were Japan-exclusive, featured only in fiction, or exist as limited-run exclusive toys. Female characters who had multiple toys are listed only once.
Generation 1 / Generation 2
Autobots
Japanese G1
e-Hobby Exlusive
G1 GoBots
Decepticons
Japanese G1
Beast Era
Maximals
Predacons/Vehicons
The Covenant
Universe / Timelines
Autobots
Maximals
Decepticons
Shattered Glass Decepticons
Unicron Trilogy
Autobots
Decepticons
Mini-Cons
Live-action film continuity
Autobots
Decepticons
Transformers Animated
Autobots
Substitute autobots
Decepticons
War for Cybertron
Autobots
Decepticons
Prime
Autobots
Decepticons
Generations Toys
Minicons