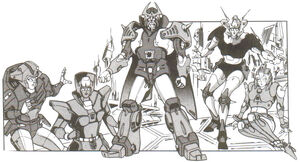 Following is a thorough list of female Transformers characters. Many of these characters were Japan-exclusive, featured only in fiction, or exist as limited-run exclusive toys. Female characters who had multiple toys are listed only once.
Generation 1 / Generation 2
Autobots
Japanese G1
e-Hobby Exlusive
G1 GoBots
Decepticons
Japanese G1
Beast Era
Maximals
Predacons/Vehicons
The Covenant
Universe / Timelines
Autobots
Maximals
Decepticons
Shattered Glass Decepticons
Unicron Trilogy
Autobots
Decepticons
Mini-Cons
Live-action film continuity
Autobots
Decepticons
Transformers Animated
Autobots
Substitute autobots
Decepticons
War for Cybertron
Autobots
Decepticons
Prime
Autobots
Decepticons
Generations Toys
Minicons
Ad blocker interference detected!
Wikia is a free-to-use site that makes money from advertising. We have a modified experience for viewers using ad blockers

Wikia is not accessible if you've made further modifications. Remove the custom ad blocker rule(s) and the page will load as expected.