The name or term Longarm refers to more than one character or idea. For a list of other meanings, see Longarm (disambiguation).
Longarm is an Autobot Mini-Con from the live-action movie continuity family.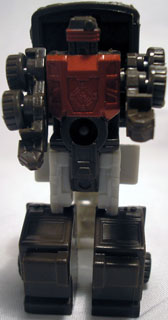 Longarm is partnered with the Autobot Inferno.
That's about all we got on him.
Toys
Longarm is a redeco of Armada Longarm. He came packaged with Inferno.
Notes
Longarm is the only Mini-Con expressly identified as being part of the movieverse. (Though Japanese promotional Mini-Cons Noise Effect and Torque Gain were available with movie product, their instructions use the notably-different "classic" Japanese Transformers logo rather than the movie logo, seemingly placing them within the Generation One realm.) Since there is basically no official information on him, just what being a Mini-Con in the movieverse entails is a mystery.
External links