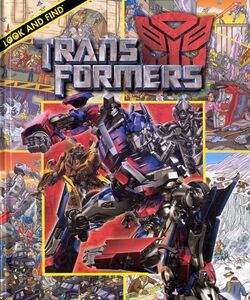 Look and Find Transformers is a large-format childrens find-the-object book for the 2007 live-action film.
Vital Statistics
ISBN 978-1-4127-6817-7
ISBN 1-4127-6817-7
Barnes & Noble ISBN 1412768179
Writer: Caleb Burroughs
Illustrator: Art Mawhinney
Pagecount: 16pp
Originally published: Publications International, Ltd., 2007
Synopsis
The Decepticons are out to conquer Earth, but help is hidden in plain sight, can you find the Autobots so they can save the day?
Locations:
Arctic 1897
Bobby Bolivia's used car lot
Desert village
Sector Seven rescue
Hoover Dam
City battle
Comments/Notes
All the locations and events in this book are lifted from the 2007 movie except the epilogue at Murray Wright High School. Murray-Wright is a real high school in Detroit. Presumably one of the book's creators went there and made it the location of a second Autobot contingent settling on Earth as an in-joke.
Strangely, this book's copyright dates from mid 2006, due to the movie's original projected release date of November, 2006.
Starscream is drawn with the earliest known head design in his appearance within this book: A more skull shaped head that seemingly lacks a neck as it connects to his torso.
External links
Ad blocker interference detected!
Wikia is a free-to-use site that makes money from advertising. We have a modified experience for viewers using ad blockers

Wikia is not accessible if you've made further modifications. Remove the custom ad blocker rule(s) and the page will load as expected.