Macdonald Purnell put out a series of Transformers coloring and activity books in the UK in 1986.
They lacked individual titles, and most had no story, though some included short comics.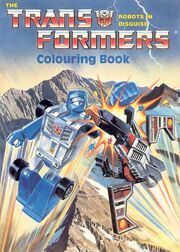 Colouring Book (Beachcomber)
Content: Black & white battle scenes. Some of them based loosely around an Autobot assault on a Decepticon mountain foretress, others not.
Trivia: Beachcomber, who appears on the cover, does not appear inside.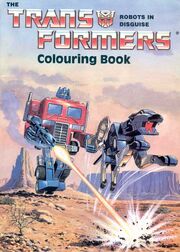 Colouring Book (Optimus Prime)
Content: Black & white illustrations of Transformers based on their box art.
Trivia: This book has the same ISBN as the Beachcomber one. Though their contents were different, they are, from a retail standpoint, fungible.
Sticker Fun Book (Bombshell)
Content: Ravage stalks his prey in the middle of a confused battle, only to be foiled by Jazz.
Trivia: Bombshell appears on the cover in his Diaclone coloration. (See also Salvo
Activity Book (Soundwave)
Content: Various activities and three short stories; Power Failure, Bridge Builder and Seeing is Believing. Also, Skywarp has a giant maze shaped like the Decepticon symbol, craazy!
Ad blocker interference detected!
Wikia is a free-to-use site that makes money from advertising. We have a modified experience for viewers using ad blockers

Wikia is not accessible if you've made further modifications. Remove the custom ad blocker rule(s) and the page will load as expected.