Home
Talk

726
7,979pages on
this wiki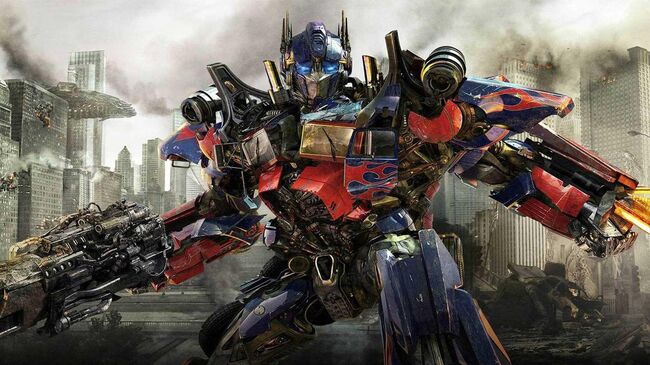 See how you can win the Transformers Animated set with this video! Click here >>


For starters, please sign up to create a FREE personal account, or log in if you already have one.
| | |
| --- | --- |
| Want to help, but unsure how? Here are a few ways: | Now sure how to get started? Here are a few helpful links: |
Were you born to lead, or to follow? Destroy or Protect? Find out with our Transformers Personality Quiz!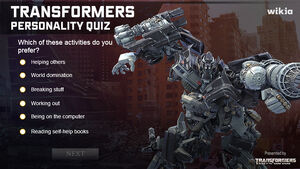 Join the Chat



Galvatron is a force of nature. Born from the machinations of Unicron himself, Galvatron is a focal point of power and madness given form. He is blind to all but his lust for power; his whims and desires can be sacrificed in a moment's rage. Not even his own subordinates are safe. Though he is not beyond the capacity for long-term goals, it is his unpredictability and his casual disregard for any and all life that strike such horror in friend and foe alike. Truly, the Decepticon leader is without any sense of empathy.

TakaraTomy Announces Transformers-Evangelion Crossover
As part of the Transfomers 30th Anniversary project, a page in the Hobby Japan magazine shows Optimus Prime (Convoy in Japan) in Eva Unit-01's trademark purple and neon green color sceheme with Eva Unit-01 behind him. Below the image are the details of the story:
"The Angels are invading. Breaking a long silence, the mysterious life-forms known as the Angels suddenly appear. The weapons the UN forces gather together in retaliation can't even scratch them. In the end, they turn to the secret agency, NERV, to manage the anti-Angel strategy.
With Neo-Tokyo 3 in their sights, the Angels slowly advance upon the city...but suddenly a spaceship comes hurtling down from the sky above the Angels: the Autobot Sky Lynx! Out of the ship emerges warriors of the far-off planet Cybertron. They've come to investigate after noticing an unusual energy reading.
"We can't let a disaster like the Second Impact occur on this planet."
"What?! What are these monsters?!"
Optimus Prime sets his sights on an enemy much bigger than himself."
Source: Anime News Network
What did you think of Transformers: Age of Extinction?