See how you can win the Transformers Animated set with this video! Click here >>


For starters, please sign up to create a FREE personal account, or log in if you already have one.
| | |
| --- | --- |
| Want to help, but unsure how? Here are a few ways: | Now sure how to get started? Here are a few helpful links: |
Were you born to lead, or to follow? Destroy or Protect? Find out with our Transformers Personality Quiz!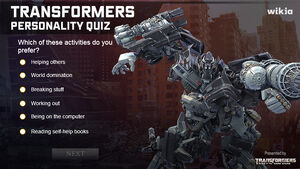 Join the Chat




Galvatron is a force of nature. Born from the machinations of Unicron himself, Galvatron is a focal point of power and madness given form. He is blind to all but his lust for power; his whims and desires can be sacrificed in a moment's rage. Not even his own subordinates are safe. Though he is not beyond the capacity for long-term goals, it is his unpredictability and his casual disregard for any and all life that strike such horror in friend and foe alike. Truly, the Decepticon leader is without any sense of empathy.

Introducing Japan's J-deite Quarter

the new real-life Transformer
Project J-deite is a collaboration between Brave Robotics and Asratec Corp and has the full approval of Transformers' creator Takara Tomy.
Japanese engineers have something that children of the 80's are surely longing to have: the 4-foot tall Transformer robot which has the ability to go from robot to sports car. In its vehicle form, the robot can drive up to 6 miles per hour (mph) as a two-seater car with about 1.5 inches of room clearance. In its humanoid form, it can walk at 0.6 mph.

Source: International Business Times, Science Times
What did you think of Transformers: Age of Extinction?