This article is about the Emergency Team Mini-Con helicopter. For the Safeguard Team Mini-Con muscle car, see Makeshift (Universe).
Makeshift is a Mini-Con from the Armada portion of the Unicron Trilogy continuity family.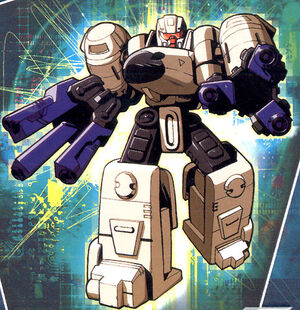 Like his teammates on the Emergency Mini-Con Team, Makeshift throws himself wholeheartedly into his search-and-rescue operations. However, unlike his somewhat emotionally-needy ally Prowl, Makeshift seems completely selfless in his duty, not even seeking verbal praise for his works. When he's not helping people, he's learning more methods of helping people — be those people mechanical or organic.
Though he's not much for battle, he's seemingly indispensable on the battlefield, thanks not only to his ability to tend to the injured quickly and competently, but because of his sharp mind and improvisational skills in a tight spot. If Makeshift has a fault, it's that his desire to save seems to extend even to his enemies; he will only fight in self-defense, and even then he'd rather scare attackers away without hurting them.
In the Universe conflict, Makeshift (or an alternate-universe version of him) is partnered with the Autobot Whirl and fellow Mini-Con Gunbarrel.
Japanese name: Twist
Fiction
Cartoon continuity
Dreamwave Armada comic
Makeshift is one of the many Mini-Cons who gathered on Earth in preparation for the trip back to Cybertron and the battle with the chaos-bringer Unicron. Presumably, he joined Over-Run at the Loop, where the Mini-Cons channeled their energies through the Matrix and dealt the fatal blow to Unicron.
Toys
Armada
Emergency Mini-Con Team (Basic, 2003)
Japanese ID number: MM-20
Emergency Micron X-Dimension (Basic, 2003)
Japanese ID number: MM-21
A low-run regular-retail "X-Dimension" redeco of the Emergency Team was made available in Japan, in midnight blue and orange. This was the final set of X-Dimension Mini-Cons released.
Universe
Autobot Whirl with Makeshift & Gunbarrel (Ultra, 2004)
External links
Ad blocker interference detected!
Wikia is a free-to-use site that makes money from advertising. We have a modified experience for viewers using ad blockers

Wikia is not accessible if you've made further modifications. Remove the custom ad blocker rule(s) and the page will load as expected.