Ad blocker interference detected!
Wikia is a free-to-use site that makes money from advertising. We have a modified experience for viewers using ad blockers

Wikia is not accessible if you've made further modifications. Remove the custom ad blocker rule(s) and the page will load as expected.
This article is about a character or characters with no official name or descriptor.
For more information see Help:Nameless characters.
Manny's cousin is a human in the Movie continuity family.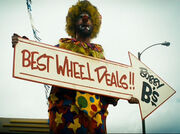 Manny's cousin, otherwise known as the "heat-stroke-afflicted clown", works as a living sign for Bolivia's Finest Quality Used Cars and Petting Zoo while dressed in a clown suit. He apparently harnesses the ability to scare the "white folks".
Transformers (film)
Edit
Actor: Johnny Sanchez
Manny's cousin was advertising "Best Wheel Deals!!" at the street corner when Ron Witwicky brought his son to Bobby Bolivia's to purchase a car. The clown complained that the heat was causing his makeup to melt, burning his eyes. This prompted Bobby to tell Manny to take care of his cousin by getting him to take off his clown suit and stop scaring off white folks. This led to an argument between the two cousins while Sam and Ron were picking out a car. Transformers