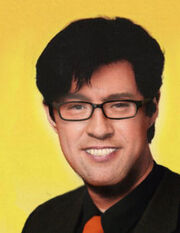 Manny Manos is a comic book letterer, inker and writer[1], with only one Transformers credit, as letterer on "Guess Who the Mecannibals are Having for Dinner?".
(His only other known credit of any sort is as inker on Marvel Super Heroes #11.[2])
Footnotes
↑ "Comic book writer & inker Manny Manos has canceled plans to appear at the Laughing Ogre on the 10th due to a sick relative [...] he will not be able to reschedule before leaving the States." - "Talk of the Town" for Columbus OH, March 08, 2009
Notes
It is possible that "Manny Manos" is not a real name, but rather means "many hands"; i.e., that several people worked on the lettering for this issue. The lettering does show a great deal of variation (one style each for many different alien species), though this is far from conclusive.

You left a piece out!
---
This article is a stub and is missing information. You can help Teletraan I: The Transformers Wiki by expanding it.
Ad blocker interference detected!
Wikia is a free-to-use site that makes money from advertising. We have a modified experience for viewers using ad blockers

Wikia is not accessible if you've made further modifications. Remove the custom ad blocker rule(s) and the page will load as expected.