Mantis is a Maximal Insectron from the Beast Wars II portion of the Generation One continuity family.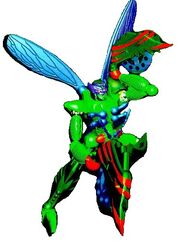 Of all the Insectron warriors, Mantis is by far the most hostile. He likes peace and quiet and if disturbed he'll explode into a fit of rage that's nearly impossible to avoid. Though he seems like an absolute nutcase, he only wants one thing: relaxation. As a member of the Insectrons, he and his cohorts left Cybertron in an attempt to escape the wars that never seemed to go away. He had thought he had found a safe haven on Gaea. Now that the battle has been shifted to his new home, he doesn't care what side he fights on just as long as everyone leaves him alone!
Unfortunately, he has a constant thorn in his side: Autolauncher, who seeks to crush Mantis and prove he's the best disc-slinger there is. But Mantis' telekinetic control of his discs in mid-flight certainly give him an advantage.
Fiction
Beast Wars II and Neo animation
Voice actor: Hiroki Takahashi (Japan)

I want to tell you about the Transformers!
---
This character article is a stub and is missing information on their fictional appearances. You can help Teletraan I: The Transformers Wiki by expanding it.
Beast Wars II manga
IDW Beast Wars continuity
Toys
Beats Wars II
Mantis (Deluxe, 1998)
Acessories: 2 discs
Mantis vs Autolauncher (Vs pack, 1998)

Japanese ID number: VS-20
Mantis was available both as an individual and in a two-pack with his rival Autolauncher.
External links
Ad blocker interference detected!
Wikia is a free-to-use site that makes money from advertising. We have a modified experience for viewers using ad blockers

Wikia is not accessible if you've made further modifications. Remove the custom ad blocker rule(s) and the page will load as expected.