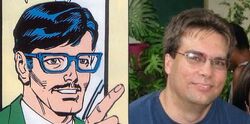 Mark Baker-Wright is long-time fan who has been asked to proofread and edit some bios and text pieces for the Official Transformers Collectors' Club magazine. He hasn't done anything especially creative for the club himself (at least not yet), but he tries to make those that do look good. After all, there's nothing like a mispelled word to ruin the idea that someone knows what he/she is doing!
He sometimes hangs around on message boards posing as multi-millionaire G.B. Blackrock, but he really doesn't run any mega-corporations, and in fact is something of a cheapskate.
Proofreader
External links
Ad blocker interference detected!
Wikia is a free-to-use site that makes money from advertising. We have a modified experience for viewers using ad blockers

Wikia is not accessible if you've made further modifications. Remove the custom ad blocker rule(s) and the page will load as expected.