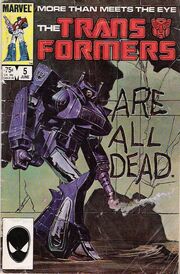 Mark Bright is an American comic book artist.
Bright illustrated the cover of issue 5 of the Marvel G1 comic, a cover that to this day remains a fan-favorite. One of his more visible projects in mainstream comics was Quantum and Woody, one of several collaborations with writer Christopher J. Priest. More recently, he drew an online comic strip called ...level path and an issue for IDW Publishing, Spotlight: Nightbeat.
Alternate names: M.D. Bright, MD Bright, Doc Bright
Transformers work
External links
Ad blocker interference detected!
Wikia is a free-to-use site that makes money from advertising. We have a modified experience for viewers using ad blockers

Wikia is not accessible if you've made further modifications. Remove the custom ad blocker rule(s) and the page will load as expected.