Masami Ōbari (大張正己, Ōbari Masami?) is a Japanese animator and mechanical designer who helped animate some episodes The Transformers television series. His aesthetic involves giving his robots a muscular appearance. He was among the animation team that animated the first season of The Transformers, in Season 3 he was speculated to be among those that animated the episode Call of the Primitives, with more anime like visuals.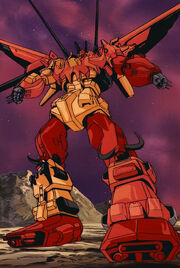 Ad blocker interference detected!
Wikia is a free-to-use site that makes money from advertising. We have a modified experience for viewers using ad blockers

Wikia is not accessible if you've made further modifications. Remove the custom ad blocker rule(s) and the page will load as expected.