This article is about the Japanese promotional video for "The Transformers: The Movie". For the movie itself, see The Transformers: The Movie.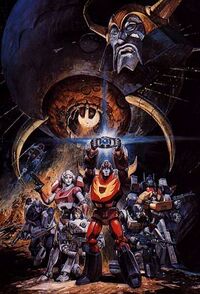 "Matrix Forever" was a 20-minute video created to promote the Japanese release of The Transformers: The Movie in 1989. Technically, the full title of the promo video is "Transformer the Movie Mokushiroku Matrix yo Eien ni" (トランスフォーマー・ザ・ムービー 黙示録 マトリクスよ永遠にー), or "Transformers: The Movie—Apocalypse: Be Eternal, Matrix". Yes, that's a punctuational nightmare. "Matrix Forever" will do.
The video includes a preview trailer for the film, a collection of Transformers TV series openings, and some TV commercials for the toys.
A widespread misconception among fans holds that The Transformers: The Movie itself was retitled Matrix Forever in Japan.[1]

Thanks for helping me... pull myself together.
---
This cartoon episode article is a stub and is missing information. You can help Teletraan I: The Transformers Wiki by expanding it.
Ad blocker interference detected!
Wikia is a free-to-use site that makes money from advertising. We have a modified experience for viewers using ad blockers

Wikia is not accessible if you've made further modifications. Remove the custom ad blocker rule(s) and the page will load as expected.